Never have to leave your house or barracks to get married by proxy!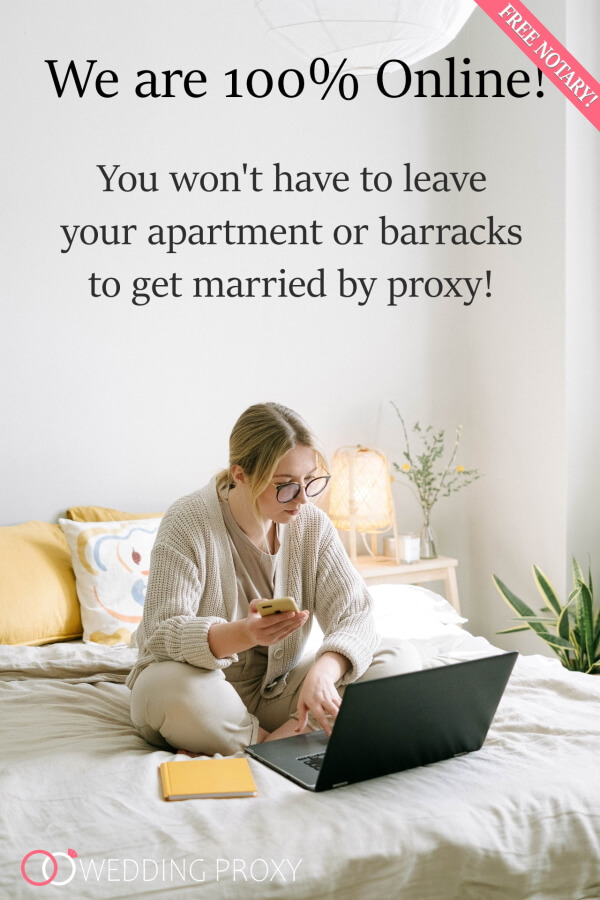 If you have any questions or need more information about our double proxy wedding service, please visit our FAQ or call our staff at 406.717.5858 . They'll respond faster than you expect.
we are 100% online! you won't have to leave your house, apartment or barracks
Choose the Proxy Marriage Package Right For You
MILITARY DISCOUNT INCLUDES FREE NOTARY
MILITARY DISCOUNT INCLUDES FREE NOTARY APOSTILLE DOCUMENT
INCLUDES FREE NOTARY APOSTILLE DOCUMENT
Frequently Asked Questions
The WeddingProxy process is completely online! We've designed a completely online proxy marriage application and completed on our secure servers. Our main forms are encrypted keeping your temporary held information secure.
No personal information is ever stored for longer than it takes to complete your marriage certificate. Once completed, your info is deleted.
You and your Fiance won't have find a notary off-base to notarize your documents. Our secure & encrypted (think blockchain) notaries are online and ready to serve you 24 hours per day, at no additional cost.
You won't have to print, scan or fax marriage forms and wedding applications.
Use our secure & encrypted 24/7 online wedding service from the comfort of your house, dorm room, barracks or wherever you're at, anywhere in the world.